Easy Green Salad – Two Peas & Their Pod
scroll for the Story
~ MORE ~
explore

a

.
→ all Story at a.
✐ Publish
👁️‍🗨️ Perceive
🙂 Play
TrendingStory
SocialStory
RandomStory
Your concerned Story here:
Easy Green Salad – Two Peas & Their Pod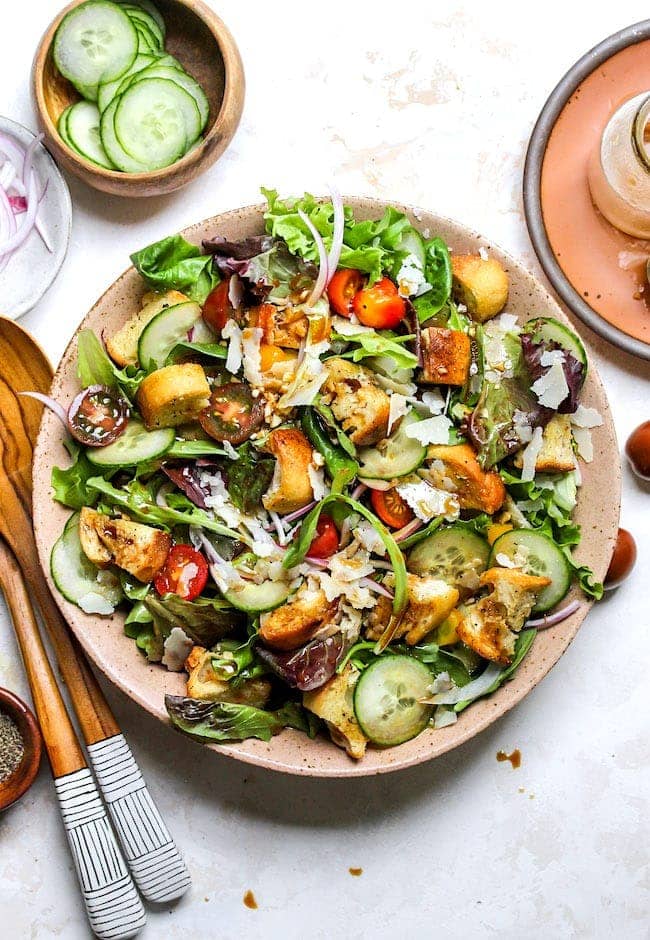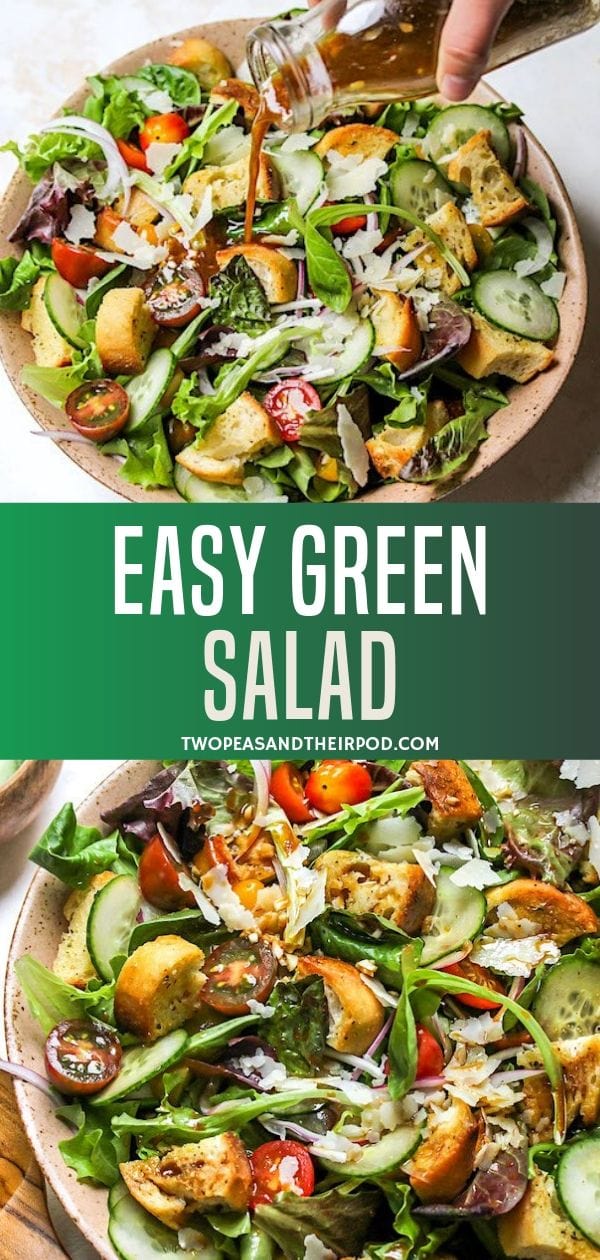 Easy Green Salad with mixed greens, tomatoes, cucumber, red onion, Parmesan cheese, croutons, and a quick balsamic vinaigrette. This simple salad recipe is the perfect side dish for any meal.
Everyday Green Salad
I try to eat a salad with all of my dinners, no matter what is on the menu. My go to salad is this Easy Green Salad. It goes with EVERY meal and is easy to throw together. There is nothing fancy about it, but that is why I love it. It is a great way to get in extra greens and the flavors are fresh and delicious!
This easy green salad is the perfect salad for weeknight meals, but it is also great for serving to family and friends at dinner parties and potlucks because it is SO good. Everyone loves this basic salad recipe because there is nothing fancy about it. Sometimes simple is best and that is true with this Easy Green Salad. It is perfection without any fuss!
Easy Green Salad Ingredients
Greens-The greens are the star of the salad! I like to use mixed greens or chopped Romaine lettuce. Kale, arugula, or butter lettuce are also good options, use whatever you have in the fridge!
Tomatoes-For this green salad, I like to use cherry or grape tomatoes. If it is tomato season and your garden is producing lots of large tomatoes, feel free to chop up big tomatoes and add them to the salad.
Cucumber-Cucumber slices add a refreshing crunch. I prefer seedless cucumbers, but any variety will work.
Red Onion-A little red onion gives the salad a pop of flavor and color! If you are not an onion fan, you can leave it out, but we are big onion fans!
Parmesan Cheese-Make sure you use GOOD Parmesan cheese for this salad, not the stuff in the can:) You can use shaved or freshly grated Parmesan cheese. And if you want to mix up the cheese, feta, goat, or shredded white cheddar cheese would also be good!
Homemade Croutons-I LOVE adding my homemade croutons to this salad. If you don't have time or need the salad to be gluten-free, you don't have to add them, but I highly recommend them! You can make them in advance, they will keep in an airtight container for up to one week. I like to make them on Sunday and use them in our salads all week! And they really are easy to make, they take less than 30 minutes from start to finish.
Balsamic Vinaigrette– The balsamic vinaigrette dressing makes the salad. I promise it is easy to whisk up with ingredients you probably already have in your kitchen. You can make the vinaigrette in advance and keep it in the fridge for one week. You can even double the recipe! Our family LOVES this balsamic vinaigrette, it is SO much better than store bought dressing!
How to Make Easy Green Salad
I make this salad every single week because it is so easy! I am telling you, there are no excuses when it comes to this salad! You should be eating this salad with every single meal. It is SO easy and SO good.
You can make the croutons and balsamic vinaigrette in advance.
You can also wash your greens in advance. I like to use a salad spinner to wash and dry my greens. If you want to chop your salad greens in advance, store them in a plastic bag or container with paper towels and it will keep the greens extra fresh!
You can even slice up your cucumbers, onions, and halve your tomatoes in advance so when dinner time rolls around all you have to do is toss your salad!
When ready to eat, combine the greens, tomatoes, cucumber, red onion, Parmesan cheese, and croutons in a large bowl. Drizzle with balsamic vinaigrette and toss well. Serve immediately. So simple!
What to Serve with Green Salad
Like I mentioned earlier, this easy green salad can be served with ANY meal. It is the best basic side salad. We call it our house salad because it is a family favorite and we make it all of the time! If you wanted to make a meal out of the salad, you could top the salad with grilled chicken, salmon, shrimp, beef, or beans!
If you need some ideas on what to serve with our easy green salad, here are a few of our favorite recipes, but really, you can serve this green salad with ANYTHING!
More Salad Recipes:
5 cups chopped lettuce or mixed greens
1 1/2 cups halved cherry or grape tomatoes
1 English cucumber, sliced
1/4 red onion, thinly sliced
1/4 cup freshly grated parmesan cheese
In a large bowl, combine lettuce, tomatoes, cucumber, red onion, Parmesan cheese, and croutons. Drizzle with balsamic vinaigrette and toss well. Serve immediately.
Nutrition Facts
Easy Green Salad
Amount Per Serving
Calories 163 Calories from Fat 108
% Daily Value*
Fat 12g18%
Saturated Fat 3g15%
Cholesterol 4mg1%
Sodium 128mg5%
Potassium 236mg7%
Carbohydrates 11g4%
Fiber 2g8%
Sugar 3g3%
Protein 4g8%
Vitamin A 2620IU52%
Vitamin C 9.6mg12%
Calcium 74mg7%
Iron 0.8mg4%
* Percent Daily Values are based on a 2000 calorie diet.
Keywords
easy, green salad, salad
Photos by Dishing Out Health
published on June 3, 2019
---
Full/More Story at Source
Easy Green Salad – Two Peas & Their Pod
---
We've thought not to show typical, irritating Google adsense to give you an ad-free, calm internet experience always. But it depends on your continuous support for our this distinguished initiative, whenever we see our Donation Model reaches equivalent to Google Adsense earnings, we'll stop showing google ads. Make a donation of just $1 (we wont want more indeed).