The Absolute Best Documentaries on Netflix
The Absolute Best Documentaries on Netflix
Entertainment
'13th' | Netflix
'13th' | Netflix
Netflix is the great equalizer. When you're sifting through zillions of movie options, the traditionally niche art of documentary can go toe to toe with Hollywood blockbusters, which means that previously unheard stories have a more equal opportunity to flourish.
That's all the more important for documentary films and docuseries, which never reach the heights of popularity comic book movies and other mass-consumption summer fare enjoy. If you're looking for documentaries that make you stop and reconsider your view of the world, these fit the bill. For the sake of this list, we've included both series and features, because when you're stuck in a Netflix binge, the lines between the two blur. 
Netflix
Abducted in Plain Sight (2017)
Abducted in Plain Sight, directed by Skye Borgman, played the film festival circuit a few years ago before Netflix gave it a home in 2019. Since its arrival on the streaming service, it has infuriated/captivated hordes of viewers who can't quite believe the story of how the seemingly perfect Broberg family was nearly destroyed, singlehandedly, in the mid-'70s by a sociopathic neighbor, Bob "B" Berchtold, who was obsessed with their 12-year-old daughter, Jan. But this description doesn't do the documentary justice, as what unfolds happens to be one of the most mind-boggling cases perpetrated by an insanely conniving man who managed to kidnap Jan not once… but twice. While Abducted in Plain Sight is one of true crime's craziest films in recent history, it's also yet another terrifying look at how one man's manipulation can destroy several lives, and how adults and the justice system continually fail young victims of sex crimes. 
Amanda Knox (2016)
Amanda Knox has been convicted and acquitted twice of murdering her roommate while studying abroad in Italy. Directors Rod Blackhurst (Here Alone) and Brian McGinn (Chef's Table) revisit the embattled media sensation's tangly story here with peerless access to key players and new archival footage. The doc explores both sides of Knox's case, asking viewers, "Do you suspect her?" or "Do you believe her?" Given Knox's participation, it's pretty clear whose side you're supposed to take, but whatever you think of her case, by placing you in Knox's situation the film makes you feel like her story could very well happen to you, too. Dust off your Crazy Walls, guys.
American Factory (2019)
When the Chinese company Fuyao Glass opened a new factory in Dayton, Ohio, there was so much hope in the air. Billionaire Chairman Cao Dewang arrived at his new facility with the intention of writing a bold new chapter in the expansion of global capitalism, delivering prosperity to a struggling area while getting rich in the process. That was the plan, at least. American Factory follows the slow depletion of that hope as the corporate culture of the Chinese managements butts heads with the customs, attitudes, and economic priorities of the American workforce. Directors Julia Reichert and Steven Bognar put their cameras everywhere: terse board meetings, raucous union organizing sessions, casual break-room conversations, and, in one revealing sequence, a business trip to a Fuyao factory in China. Despite sounding tremendously bleak, American Factory has more humor and humanity than your average magazine article about the challenges facing Middle America. For a movie about the complexities of mechanical manufacturing, it feels refreshingly handmade.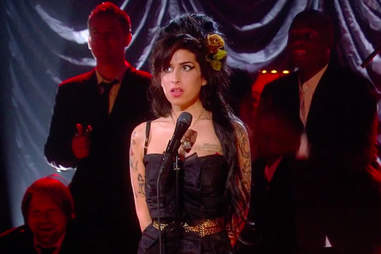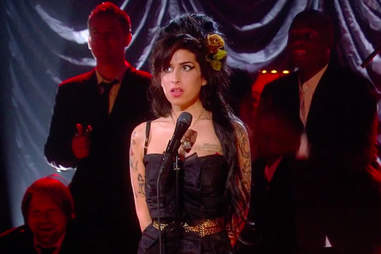 A24
Amy (2015)
Gone far too soon, Amy Winehouse left behind an immensely innovative body of work and moving story that was always itching to be heard. Looking deeply at the British soul singer-songwriter's personal life and career, Amy explores exactly who the "Back to Black" singer was and the demons that plagued her life through archival footage and previously never-before-seen home videos. The film largely looks at Winehouse's struggle with addition and fame's effect on it, without sensationalizing her pain. Rather, it tenderly focuses on the whole picture of who she was as an individual, hugely popular recording artist and otherwise.
Audrie & Daisy (2016)
Looking at two separate cases of sexual assault that parallel each other to an unfortunate degree, Audrie & Daisy offers a grave look at how sexual violence affects teenage girls. As the cases of Audrie Pott and Daisy Coleman are brought to light, this documentary focuses on how the victim can tend to be made into a villain by their peers, frequently with the anonymity and distance of social media playing a role. While the documentary gives an immensely sobering account of cyberbullying, it also fully realizes the pain of being a victim with nowhere to turn, and acknowledges how frightening, and frequent, this reality is for young women. 
The Battered Bastards of Baseball (2014)
Kurt Russell, who interrupted his acting career to play baseball professionally in the 1970s, is one of the highlights of this documentary about his father's legendary minor league team, the Portland Mavericks. But he's just one piece of a highly entertaining true story that chronicles the independent baseball club and its ragtag team of rejects, who seem more tailor-made for an underdog sports comedy than reality — no surprise, there's a Hollywood remake in the works.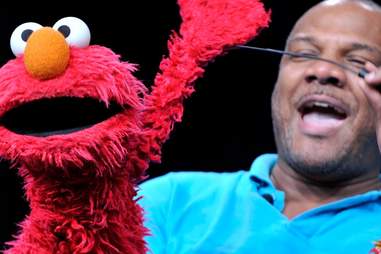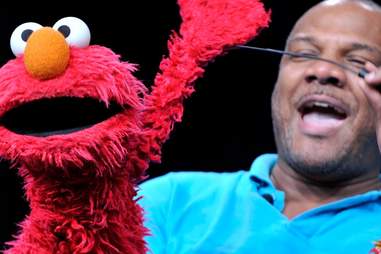 Submarine Deluxe
Being Elmo: A Puppeteer's Journey (2011)
It's hard to tell who is the more charming subject: Elmo, the iconic Muppet from Sesame Street, or Kevin Clash, the puppeteer who created and performed the little red monster. Or is it all just Clash anyway? Either way, this crowd-pleasing film follows the backstory of Clash, who began a fan and ended up more than fulfilling his dreams of joining the legacy of Jim Henson, while also looking into the lasting phenomenon of Elmo's popularity with children.
Blackfish (2013)
Every documentary attempts, in its own way, to achieve what Blackfish achieved: Changing the cultural discourse. Whatever your thoughts are about the film's objectivity and its presentation of SeaWorld's policies relating to orca captivity and training, it's undeniable that Blackfish made an entire nation rethink an institution and a kind of entertainment that has been a relatively unexamined part of the mainstream for decades. The troubling story of Tilikum touched a nerve with the public, and led to a real-world impact on SeaWorld's bottom line. Five years after its release, it continues to be a relevant examination of human interference in nature, and our species' steadfast dedication to financial gain. 
The Bleeding Edge (2018)
Forget Big Pharma; Big Medical Devices is the shadow industry making a lot of us sick, according to this Netflix doc. We're only given a glimpse through an ensemble of people whose lives have been forever altered by the larger horrors wrecked by less-than-substantially tested — and in some cases, failed and put to market anyway — devices used for surgeries, for keeping our limbs together, and every literal crevice of our bodies in between.
The Bomb (2016)
Spawned off from the more conventional documentary Command and Control (and Schlosser's books on the subject matter), this more stirring if not more disturbing film was initially presented as an installation in the form of 360-degree viewing experience with live accompaniment. In its flat, single-screen form, it's been sold as a music documentary due to the fact that it's entirely set to a score by the rock group The Acid. Really, though, The Bomb is a kaleidoscopic montage of archival footage of military exercises, nuclear bomb tests and more unnerving material — some of it more beautiful than you'd prefer to acknowledge. Certainly it owes something to the classic doc The Atomic Cafe, yet this compilation film is hardly so funny.
Zeitgeist Films
Bombshell: The Hedy Lamarr Story (2017)
Hedy Lamarr, described as "the most beautiful woman in the world," has a great legacy that's been largely scrubbed from the influx of retellings about her life beyond the reductive interpretation of an Old Hollywood actress notorious for running around naked and performing an orgasm in a movie. As Bombshell works to make apparent in this biographical doc, she was also a brilliant inventor whose radio technology still serves as the basis of cell phones, bluetooth, Wi-Fi, and encryption tools.
Casting JonBenet (2017)
One of the most original and clever documentaries of 2017, Casting JonBenet is also one of the hardest to just sit back and enjoy. Using the unsolved 1996 murder of 6-year-old JonBenet Ramsey as a foundation, the film finds amateur actors, all local to the town where the tragedy took place, auditioning for parts in a dramatization of the story. The result is more disturbing than expected, though more fascinating in its exploration of the legacy of the mystery and others like it. When it comes to true-crime films, the facts almost always trump the storytelling. This is a major exception, one that should have you discussing much more than the cold case in question.
Catfish (2010)
Thanks to the popular MTV series it spawned, Catfish is one of the most influential contemporary documentaries. The title itself has become a common verb meaning to deceive using a false identity on social media, typically for romantic relationships. That's exactly what happened to Nev Schulman, as was revealed in this unbelievable film by his brother, Ariel Schulman, and Henry Joost. The way they structured the doc makes it play like a love story turned thriller turned stunning psychological character study. It's no wonder so many were quick to call it a fake.
Chasing Coral (2017)
The crew behind this disturbing, yet beautiful, documentary literally had to invent their own equipment to showcase the phenomenon of coral bleaching, which causes coral to die as a result of warming ocean waters. It's not easy making time-lapse shots of unmoving objects compelling, but Chasing Coral does just that, leaving you in awe of humankind's dual capacity for invention and destruction.
Netflix
Cheer (2020)
Whatever you think about cheerleading, Netflix's six-part docuseries Cheer will make you re-consider what you think you know. If your perception is full of clichés about mean girls and thoughts that the sport isn's really a sport, it'll prove you wrong. Focusing on the road to a national championship for the ultra-competitive Navarro College team, Cheer exposes the intensity of both the sport itself and the emotional pull behind it for the fascinating teammates and coach that make up the squad. Their athleticism and gymnastics are awe-inspiring, and the rigor of it all is not for the faint of heart. No sports documentary will turn you into a cheerleader for its subject quite like this one. 
Chef's Table (2015- )
The first season of Chef's Table featured six distinct episodes, each profiling one of the world's most ambitious chefs, like Dan Barber, Massimo Bottura, and Niki Nakayama. The cinematography is gorgeous, the narration is tight, and it never loses the viewer's interest or focus, even when diving into mundane topics. It's helmed by the director behind Jiro Dreams of Sushi, so you can expect it to be pretty much perfect.
Crip Camp (2020)
Chances are you have not heard of Camp Jened, a camp for disabled people that operated in upstate New York between the 1950s and 1970s. But the documentary Crip Camp invites you into this hippie-run utopia, introducing its attendees that will later go on to fight for disabled rights across the country. The film, produced by Higher Ground, the Obamas' company, is co-directed by sound designer Jim LeBrecht, who went to the camp in 1971 and the stay changed his life. As a teen suffering from spina bifida, he felt like an outcast among his peers. At Jened he was a cool kid. Through incredible archival footage, the documentary shows how campers at Jened were given the freedom they so often lacked in the outside world. 
Netflix
Conversations With a Killer: The Ted Bundy Tapes (2019)
Director Joe Berlinger's work on the Paradise Lost trilogy centered on the myriad miscarriages of justice in the case of the West Memphis 3, who were convicted of murdering three boys in the mid-'90s. While this Netflix docuseries focuses on a man whose guilt is never in question, he still manages to work in sly critiques of the American penal system. Bundy may have been a ruthless serial killer, but somehow law enforcement failed to catch him, allowed him to escape from prison TWICE, and wound up convicting him in Florida thanks to some flimsy evidence and a showboating prosecutor. The tapes referenced in the title come from a journalist who interviewed a cagey Bundy on death row, but are ultimately secondary to the treasure trove of archival footage Berlinger intersperses throughout a relatively conventional docuseries peppered with talking heads — one of whom survived a Bundy attack and is one of the more revelatory figures in the doc. The convicted man eventually opens up when he begins referring to his crimes in the third person, but, like most serial killers, he's impossible to relate to, and you wind up learning little about what makes him tick. 
Cuba and the Cameraman (2017)
It's an incredible gift that director Jim Alpert has been visiting and filming Cuba for almost half a century, documenting an island that's undergone seismic cultural changes while also, thanks to embargoes and other restrictions, remaining partially stuck in time. The resulting footage is a rich portrait of history in the making, with Alpert creating his own version of the island nation, its residents, and its iconic leader, Fidel Castro, whose death provides a backdrop to the story of a culture on the brink of change.  
De Palma (2015)
The Squid and the Whale director Noah Baumbach loves Brian De Palma. Young Ones director Jake Paltrow loves Brian De Palma. Pretty much anyone with an eye for great film loves Brian De Palma. This documentary sits the legend behind Scarface, Carrie, The Untouchables, and Blow Out (and so much more) down for an interview that navigates and highlights the trials and tribulations of being a maverick in Hollywood.
Diana: In Her Own Words (2017)
Made up almost exclusively of recordings of Princess Diana in interviews with writer Andrew Morton from when they worked on an autobiography in private, this Channel 4/National Geo piece is one of the most visceral documentaries about the former British royal. While her life story is one that many know well, the way the film edits together her own recollection of events works effectively to reclaim her narrative. Even though it's very much a part of her story, the tragedy of her death has often overshadowed her life, but here you'll feel as if she's speaking from the grave about her grace and strength to reveal just how much of an effect on the monarchy she had. 
Netflix
Don't F**k with Cats: Hunting an Internet Killer (2019)
A message of caution: Don't F**k with Cats doesn't f**k around. This three-part docuseries is the prime example of Netflix's recent territory of holy shit, how is this real subjects for documentaries, following a group of internet sleuths' hunt to catch somebody who is seemingly obsessed with getting clout by cruelly torturing and killing cats on camera. In an age where the true-crime obsession has exploded, this series manages to call into question our own voyeurism and self-righteousness as it tells its own twisted story.  
Echo in the Canyon (2018)
Few documentaries capture the beauty of a specific moment quite like this one. Examining the brief era between 1965 and 1967 when musicians rushed to Laurel Canyon, Echo in the Canyon examines the explosion of folk rock and the influence of artists like Beach Boys, The Mamas and the Papas, and others who made poetry into enduring pop. Featuring interviews with the artists who pioneered that Cali sound, as well as contemporary names who were influenced by it, and a lovely soundtrack that takes you back to the era, it should be required viewing for all rock doc fans. 
Everybody's Everything (2019)
Lil Peep, nee Gustav Elijah Åhr, was a big deal among certain music circles, yet unknown entirely to others until his death via an accidental overdose of fentanyl and Xanax on November 15, 2017, not long after his 21st birthday. Achieving the true definition of "cult status," the emo SoundCloud rapper left behind a career on the verge of a major breakout and a legion of fans clamoring for some sense of clarity — which is what the documentary Everybody's Everything aims to do. Executively produced by his mother and Terrance Malick (A Hidden Life), the film sincerely brings light to who Peep was outside of his persona and the mental illness that he suffered from. It is essentially the perfect tribute to one of music's most dearly departed, recent geniuses.
Evil Genius (2018)
Evil Genius is the kind of story that would only work as airport fiction had it not actually happened. In four tightly wound 45-minute episodes, the story of Marjorie Diehl-Armstrong and her twisted, murderous ways are recounted via FBI investigators; local police in Erie, Pennsylvania (where the crimes took place); journalists; and the friends and family of those involved. Be warned, though — the show will likely leave you with more questions than answers.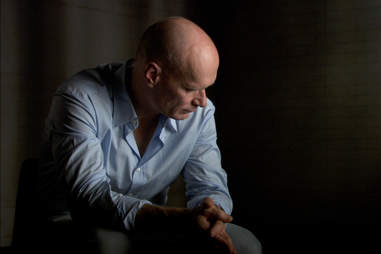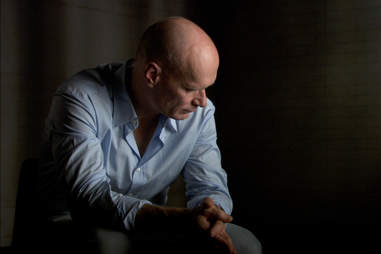 Dogwoof
The Fear of 13 (2015)
At first glance, The Fear of 13 doesn't look like much. It's a man, Nick Yarris, sitting against a black background, talking about his life of petty crime. But this one-man show follows its twists and turns down the rabbit hole of Yarris' life story; he's a functionally illiterate man who ends up giving himself a complete education while he sits on death row. It's painful, funny, and above all, surprising despite its lack of frills, challenging and engaging you with every anecdote told by a charismatic Yarris. You'll revise your feelings about what's happening at least 13 times before the film ends. 
Five Came Back (2017)
Adapted from Mark Harris's comprehensive book of the same name, this film — chopped into three episodes for maximum binge-iness — explores the lives of five Hollywood directors who exited the emerging Hollywood scene to aid their country during World War II. Through filmmaking, John Ford, William Wyler, John Huston, Frank Capra, and George Stevens played pivotal roles in shaped the American understanding of WWII, and after the war subsided, they too were changed by the experience. With interviews from names like Steven Spielberg, Francis Ford Coppola, and Guillermo del Toro, Five Came Back is a historical epic for every Netflix-subscribing movie-lover.
For the Birds (2019)
For the Birds will baffle and frustrate and gut you in ways that are difficult to parse. The documentary looks at five years in the life of an upstate New Yorker named Kathy Murphy, whose acquisition and insistence on keeping 200 chicken, turkeys, ducks, and geese at (and inside) her home causes several conflicts with local authorities and animal welfare groups. What begins as a portrait of mental illness eventually explores Kathy's evolving relationship with her husband as both their lives change dramatically in the face of outside interference. Equal parts heartbreaking and inspiring, For the Birds will stick with you long after its final shot gazes up at the sky.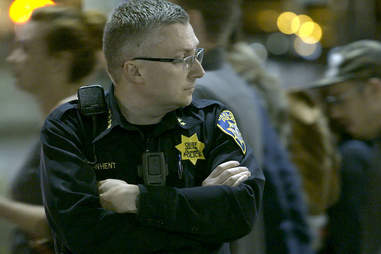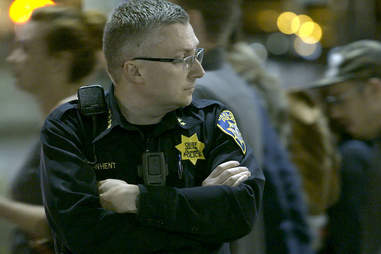 Kino Lorber
The Force (2017)
After embedding us in an ER with his last film, director Peter Nicks now drops us into the Oakland Police Department for a two-year stretch as it continues to make improvements in conduct while under federal oversight. We go on ride-alongs, sit in on police academy lectures about changes that need to be made to win the trust of the citizens, and we go outside the station and encounter those citizens during community meetings and protests. This isn't just an observational experience of the day to day of urban cops, though. Instead, brutal reality keeps rearing its ugly head, in the forms of shootings and scandals as The Force becomes a Sisyphean tale about the struggle to overcome systemic problems.
Fyre: The Greatest Party That Never Happened (2019)
In April 2017, the internet lost its mind when Fyre Festival, a would-be luxury music festival, literally blew up in its face. Although the world watched on social media as the disastrous consequences of an ill-fated-from-the-start event unfolded, the full story of how the hell rich kids could go from glamping to eating sad, makeshift sandwiches never really made sense amid the media firestorm it became. In Fyre: The Greatest Party That Never Happened, documentarian Chris Smith digs further into the backstory, looking at the poor choices the festival's overly ambitious and conniving creator Billy McFarland made. It's a part hilarious, part disgusting examination of the obsession with perception that made Fyre such a disaster, and despite the controversy surrounding the doc's creation, it remains the better of two Fyre films to appear in the same week.
Gaga: Five Foot Two (2017)
There is the Lady Gaga of then — the meat dresses, the lobster hats — and, as chronicled in this behind-the-scenes doc, the Gaga of now, a forceful, musical talent who's just as vulnerable as every other "little monster" on the planet. Gaga: Five Foot Two contextualizes the woman behind the belted anthems in everyday life, from seconds before her big Super Bowl halftime show to the doctor's office, where reality hits hard. As MTV's Diary once bluntly stated, "You think you know … but you have no idea."
Get Me Roger Stone (2017)
Many political historians and social observers will spend the rest of their lives figuring out how Donald Trump became President of the United States. Republican political strategist Roger Stone, the subject of this quick-turnaround doc, knows the answer. It's grimy, provocative, and cutthroat. You won't like it. You will like this movie.
FilmRise
Holy Hell (2016)
Filmmaker Will Allen was a member of the Buddhafield cult for more than 20 years, during which time he shot tons of home movies as well as some more official video projects for the group. After he and other followers left in 2007, he turned his footage into this fascinating documentary chronicling their experiences from the 1980s on, until the point when a deep secret about their leader, the charismatic but mysterious Michel, comes out.
Homecoming: A Film by Beyoncé (2019)
2018's Coachella, now dubbed "Beychella," has already gone down in history thanks to Beyoncé's monumental headlining performance. In Homecoming, the pop icon not only places you in the front row of the concert, but gives an in-depth look at the the show's conception and production, exploring her creative process and just how important it was to her to highlight the influence of HBCUs and celebrate black culture in her set. The film is more than the spectacle of the icon and her career-spanning music; it finds Beyoncé in a rare intimate light, breaking down what has become the unmatchable artistry that's made her a global superstar.
Hot Girls Wanted (2015)
Sex sells, but does it make for good documentary content? Sources say: yes! This snag by Netflix from the 2015 Sundance Film Festival made by Jill Bauer and Ronna Gradus traces the careers of young, amateur performers. Hot Girls Wanted isn't a vaguely shrouded stand-in for your casual sexytime viewing; it's a serious film going deep on the business of porn — and many of its exploitative practices and unsettling consequences. The first go-around was so striking that Baeur and Gradus came back two years later for a short series for Netflix exploring the other corners of the industry they didn't have space to cover in this original feature.
I Called Him Morgan (2017)
The story of murdered jazz trumpeter Lee Morgan is recounted partly by his killer, who also happens to be his widow. More than 20 years following the 1972 incident, Helen Morgan, Lee's common-law wife, gave an audio interview about her life with the musician and how she came to shoot him dead at a packed club one stormy winter night. Now, another two decades later, it serves as the centerpiece of a uniquely captivating music doc. Friends and fellow jazz musicians appear to fill in details in what might be the most pulpy biographical film ever, accentuated as it is with atmospheric archival footage of snow falling on New York City moodily scored by Morgan's own soulful recordings.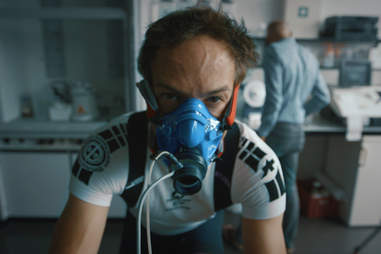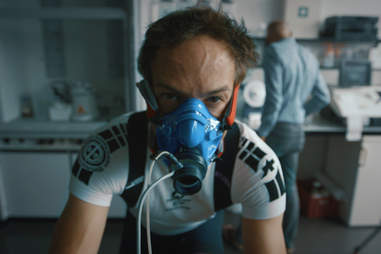 Netflix
Icarus (2017)
The filmmakers of this Oscar-winning documentary didn't set out to blow the lid off of Russia's illegal Olympics doping scandal, but that's the controversy they found themselves embroiled in once they start asking questions with the help of Russian scientist Dr. Grigory Rodchenkov and his "anti-doping" program.
I'll Sleep When I'm Dead (2016)
Every generation gets its own musical moment, a genre or subgenre that serves to completely bewilder the one that preceded it. For today's youth, it's all about EDM and the few successful players who've become millionaires from the explosive popularity of DJs. I'll Sleep When I'm Dead follows Steve Aoki — a man best known for throwing cakes onto the faces of his audience and being the son of the founder of Benihana — on his rise to fame. It's surprisingly poignant, shedding strobe lights on the movement that dominates music today.
The Innocent Man (2018)
Drawing from John Grisham's only nonfiction work of the same name, The Innocent Man follows two mysterious murders that occurred in the small town of Ada, Oklahoma in the '80s. This gripping series documents the early conviction and exoneration of former suspects, as well as the fate of two other suspects later discovered who maintain their innocence to this day while they remain behind bars. In the vein of other hit true-crime series, this Netflix original knows how to hook the audience by slowly unraveling details and alternate case theories. 
Into the Inferno (2016)
Werner Herzog's illuminating semi-sequel to Encounters at the End of the World reunites him with volcanologist Clive Oppenheimer for encounters with volcanoes all over the world. This time, Herzog stays offscreen and lets Oppenheimer have most of the spotlight, though there is plenty of the filmmaker's signature narration: some of it to revisit the making of another of his films, the 1977 short La Soufrière; or to present other interesting stories of volcanoes and the people who worship them.
Jerry Seinfeld: Comedian (2002)
In 2002, Jerry Seinfeld had wrapped up his eponymous hit sitcom, and Orny Adams was a 29-year-old standup working the circuit. One of them is supremely confident in his abilities, and the other is nervous, uncertain, and self-conscious. Adams is the confident one, and, well, we have the advantage of knowing how his career turned out. It's a fascinating character study that shows the exacting precision required to make comedy work, without lapsing into the comic hagiography so present in contemporary culture. It's also one of the most cringeworthy displays of hubris you'll see onscreen, and each passing year of Adams' modest career adds another shudder. 
Netflix
Jim and Andy: The Great Beyond (2017)
This doc, directed by Chris Smith, tells the behind-the-scenes story of Jim Carrey's method acting madness as he shot 1999's Andy Kaufman biopic, Man on the Moon. At the height of his career, Kaufman was one of the most influential figures in comedy, blending reality with fiction to such an extent that when he died of a rare form of cancer at age 35, many fans thought it was just a dark joke. When Carrey won the chance to portray his idol in the Milos Forman-directed film, he decided to "become" Kaufman — a process that was captured on camera for what was supposed to be bonus and promotional material. The results were, to use a technical term, batshit crazy.
Joan Didion: The Center Will Not Hold (2017)
Actor and filmmaker Griffin Dunne maybe fawns a little too much over his aunt, who also happens to be one of the greatest writers of a generation. He offers a generally rosy portrait of Joan Didion, running through her life and career to the present day, but wrings out key moments that paints her as acutely human, which is to say flawed.
Joshua: Teenager vs. Superpower (2017)
14-year-old Joshua Wong took a stand against the China's pro-Communist education program by staging a protest outside the territory's government headquarters. What started as a group of 20 grew to a crowd of over 100,000. If you ever feel incapable, you have Joshua Wong to inspire you with the click of a button.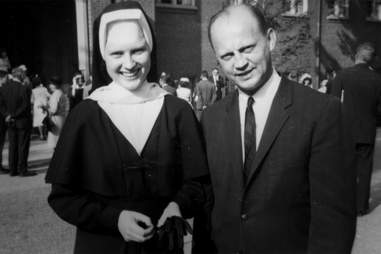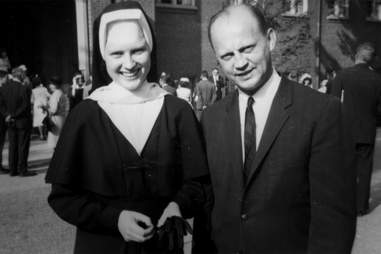 Netflix
The Keepers (2017)
True-crime docs are a dime a dozen these days, but The Keepers takes the genre to another level by dealing in both micro and macro layers of a story involving sexual abuse, murder, police corruption, and the Catholic Church. At its center is the strange disappearance and death in 1969 of a schoolteacher nun named Sister Cathy Cesnik, a case that continues to be investigated by her former students, who the filmmakers follow. Numerous shocking twists are revealed over the course of the seven-episode series, as the haunting mystery turns disturbing exposé and then circles back around again.
LA 92 (2017)
With footage recorded in the heat of and around the 1992 "Rodney King riots," LA 92's images speak for themselves without need of additional narration or retrospective commentary. (Reports of the time offer what little exposition and context is required.) This is not a supercut of news and home-video clips; Lindsay and Martin craft an impeccable experiential history, reminding us that their Oscar-winning doc, Undefeated, is very similarly a brilliant work of editing. But it's the music score, by Danny Bensi and Saunder Jurriaans, that really moves the story and makes LA 92 so engaging.
Last Chance U (2016- )
This award-winning, ongoing series makes up for all the feature-length sports docs that feel too compact in their confined, movie-length runtime. Last Chance U is still far from exhaustive, but its initial six episodes offer a fuller experience of a football season at East Mississippi Community College, where the Lions pursue their third national championship in three years. If not part of the team, you at least feel like an invested member of the EMCC family given how deep the vérité series places you into its world, intimately observing the drama alongside the players, their coach, and their academic advisor. Like in sports, success begets success in the docuseries world, and the latest run of the show will take viewers to a new school to meet a new batch of players fighting for their last chance. 
Netflix
Making a Murderer (2016-2018)
Netflix's true-crime hit was 10 years in the making, and it still didn't totally resolve the case of Steven Avery, who after spending 18 years in prison for a crime he didn't commit was convicted of murder and sentenced to life without parole. It's a heartbreaking story, and whether or not you think Avery is guilty, the show exposes disturbing truths about crime, justice, and the way America processes both. As the case continues to develop, the second season went deeper into those disturbing truths as a new defense lawyer took on Avery's case. 
Mercury 13 (2018)
Histories of Project Mercury, the first American effort to put humans in space, have typically overlooked the contributions of the 13 women pilots who tested as candidates but ultimately were deemed unsuited for the actual program because of their gender. Those pioneers are the lesser-known but crucially important figures finally getting their due in this Netflix-produced documentary. Mercury 13 is a reflection on the progress there still is to be done for gender equality compared to the feat of putting humans on the moon.
My Beautiful Broken Brain (2016)
In 2011, Lotje Sodderland suffered a hemorrhagic stroke in her sleep and woke up not knowing who she was or how to communicate. Within days, though, she began to document her situation and her recovery, recording selfie videos that are now a devastatingly personal part of My Beautiful Broken Brain, one of the best documentaries of the year. The film, which also involves David Lynch, puts us in Sodderland's mind to the best of nonfiction cinema's capabilities. In addition to candidly sharing the struggles and insights of its subject, Brain also represents her newly enhanced sensory perception through augmented POV shots, using visual effects that could have been cheesy in a lesser work.
My Scientology Movie (2017)
While he's not the director, this documentary primarily belongs to writer and star Louis Theroux, a popular figure in BBC docuseries. The "My" of the title certainly applies to him, as we follow his investigation into the Church of Scientology, with focus on leader David Miscavige, famed member Tom Cruise and the religion's propaganda machine. Theroux is a comical and faux-naive host, a cross between Mo Rocca and Nick Broomfield, easily appealing to The Daily Show crowd. As journalism, it's a goof, but the film uses a conceit where actors are cast as Miscavige and Cruise for staged studies of Scientology's processes and productions that offers a curious consideration of the Church's theatrics.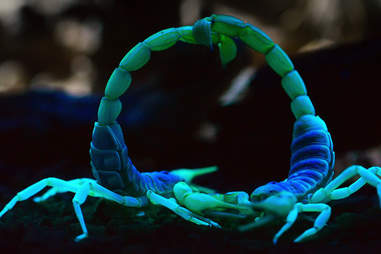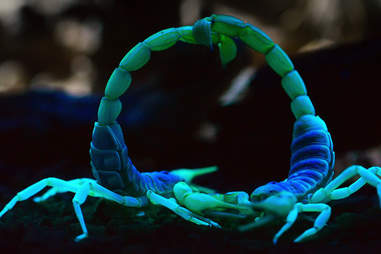 Netflix
Night on Earth (2020)
Another must-watch British nature docuseries, Night on Earth feels like an impossibly fresh take in the self-crowded Planet Earth space just by turning off the lights. Not all of the series is high-tech infrared camera shots taken at night; it finds the right balance between daytime animal behaviors and the dramatic, energetic shift into the dark. The juxtaposition, in addition to newly discovered behaviors as animals (like the famous polar bears) are adapting to their altered ecosystems because of climate change, might seem like merely a gimmick with stunning camera work, but don't be fooled — Night on Earth is the real deal.
No Direction Home: Bob Dylan (2005)
Martin Scorsese loves a long-ass rock doc. He's also a big Bob Dylan fan. More recently, he released Rolling Thunder Revue, but his first Dylan documentary is 2005's sprawling, three-and-a-half-hour-long No Direction Home, which chronicles the musical legend's life from growing up as Robert Zimmerman in Minnesota to becoming a folk legend. In particular, the film focuses on his burst of stardom in the Greenwich Village scene and controversial turn towards rock music shortly after between the years 1961-1966. The film is a classic Dylan text and one for obsessives, featuring astounding archival footage and rare interviews to absorb, and an enlightening watch as Scorsese paints a full picture of the artist famously shrouded in mystery.
Nobody Speak: Trials of the Free Press (2017)
In Nobody Speak, we see the ramifications of Bollea vs Gawker — aka the Hulk Hogan sex tape lawsuit bankrolled by Peter Thiel — which took down the beloved, controversial blog through financial devastation, forcing its co-founders to sell off the media company's remaining assets to Univision. The doc is close read of the current threats the free press faces from malevolent forces — like tech billionaires and the current administration — out of self-interest.
Oasis: Supersonic (2016)
When Oasis first debuted, their devoted fans were just as annoying as its key founding members and fiery brothers, Liam and Noel Gallagher. Oasis: Supersonic proves they had a point to be as obsessed as they were, focusing on the glory days and meteoric rise of the band that went from a group in Manchester to the new face of Britpop. While the doc touches on the Gallaghers' rivalry that made the band fall apart, it's largely a sunny piece of nostalgia that captures the magic of a band who were truly great in their halcyon days.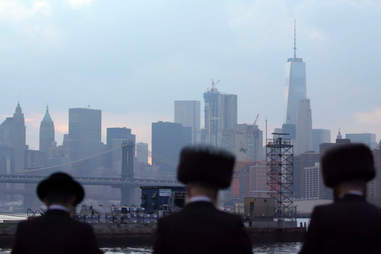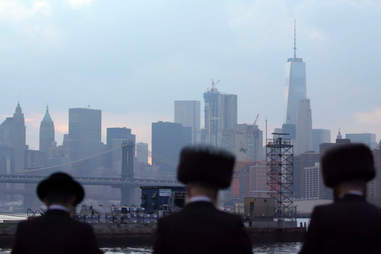 Netflix
One of Us (2017)
The duo behind the Oscar-nominated documentary Jesus Camp take another jab at religious fundamentalism, this time turning their cameras on the Hasidic Jewish community. The film follows three character-driven stories about individuals who've left the strict Orthodox faith for various reasons. One of two men showcased has left behind a family to pursue an acting career in Hollywood, while the other winds up struggling with drug addiction. The third, a woman escaping an abusive husband and now fighting an impossible custody battle for their many children, is not only the standout subject of the triptych, but her courage and the film's portrayal of her transition into general society makes the whole thing a must-see.
Operation Odessa (2018)
Operation Odessa is like if the insanity levels of Scarface were turned up times 10 and it was set in the '90s. It tells the story of three friends — including a Cuban spy and Russian mobster — from equally strange places who came up with an elaborate scheme to sell a nuclear Soviet submarine to the Colombian cartel in exchange for millions. Set between the equally lavish and dangerous locales of '80s/'90s Brooklyn, Miami, and Moscow, and with a cast of hilarious, oddly lovable characters, this doc will feel more like watching a feature film than it will a documentary. It's a true-crime story about a rouse so insane, it's cinematic. 
Our Planet (2019)
The team behind BBC's influential and popular Planet Earth series took their talents (including narrator David Attenborough) to Netflix, and the resulting series is just as stunning as any of the previous installments. Placing more emphasis on the devastating effects of climate change than its Planet Earth companions, Our Planet travels the globe to capture heartbreaking moments like a massive glacier calving and desperate walruses flinging themselves off cliffs to their deaths. The one knock against it as a documentary is that it doesn't depart from its predecessors' style in any meaningful way, down to some sequences that are mere variations on scenes previously depicted — but when the message is this grave, and the natural world still so underexplored, Our Planet can get away with delivering familiar work with a slightly different tone.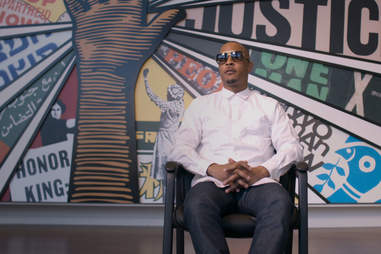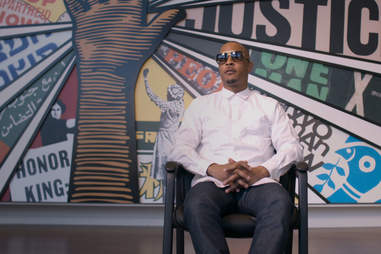 Netflix
Rapture (2018)
Rapture follows some of the most compelling figures in hip-hop — T.I., Nas, 2 Chainz, A Boogie Wit Da Hoodie, etc. — as they share stories of their respective upbringings and their journeys to success. The series' first season features eight hour-long episodes that dive into all things personal, from Logic's emotional rags-to-riches story to 2 Chainz hitting the stages of his Pretty Girls Like Trap Music tour in a tricked out pink wheelchair days after an injury. The result is an ambitious look at what goes on in the lives of some of your favorites artists when the music stops.
Rolling Thunder Revue: A Bob Dylan Story by Martin Scorsese (2019)
Bob Dylan has long been surrounded by lore, and Martin Scorsese's documentary on his mid-70s tour further plays into the legend. Rather than a straight concert film that touts never-before-seen backstage footage, though, Scorsese looks at the Rolling Thunder Revue tour and its revolving door of groundbreaking guests, from Allen Ginsberg to Joan Baez, as Dylan's means of exploring the endless bounds of creativity. With interviews from Dylan himself, influential collaborators, and even fictional characters, it's a dizzying doc about the mythos of the artist and his endeavors. Of course, there's straight concert shots and clips from behind the scenes, too, but they only confound what's real and what's meant to dizzy even more so. It's like an inside joke for devotee Dylan heads, or a fascinating look for entry-level fans at the lack of confines on how he makes art. 
Rotten (2018)
The food world is a messy business, as this Netflix docuseries demonstrates in unappetizing detail. From powerful garlic lobbyists to fraudulent fish to hormone-laden chicken, Rotten goes the extra mile to show that the reasons a wealthy nation like America has (some measure of) food security are often unpleasant and exploitative. It's not for the weak-stomached, but it will hopefully make you think before your next trip to the grocery store. 
Salt Fat Acid Heat (2018)
There are a few essential elements that make cooking both an incredible and universal experience, and according to author/chef Samin Nosrat, those four basics are salt, fat, acid, and heat. Nosrat built on those elements in her James Beard Award-winning cookbook, Salt, Fat, Acid, Heat, and now in the Netflix series, she travels the globe to explore how these principles fuel good food. The show comes from the creators of Cooked, and Nosrat is extremely charismatic, making her travels into the homes of families in Japan, Italy, Yucatán, and even Berkeley especially enlightening. While each episode focuses on one of the four keys to cooking, its simplicity allows it to alter the cooking show genre by breaking things down to the elementary level, infusing that with demonstrations, human conversation, and a whole lot of charm.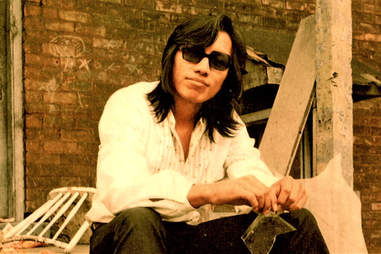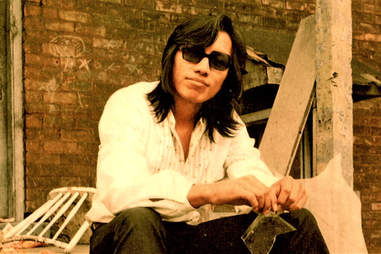 StudioCanal
Searching for Sugar Man (2012)
As much a catalog of pre-internet fame as it is music documentary and redemption story, Searching for Sugar Man explores the remarkable career of Rodriguez, a musician who released a couple albums in the early 1970s before fading into obscurity. Unbeknownst to Rodriguez, his music had become wildly popular in South Africa, where his songs were used as anthems for the growing apartheid movement and he was said to have outsold Elvis Presley. Searching for Sugar Man wasn't the only catalyst for Rodriguez's late-blossoming American fame, and its real strength lies in its empathy for and focus on the two South African fans who vow to discover what became of their idol, Rodriguez.
Seeing Allred (2018)
Directors Roberta Grossman and Sophie Sartain pay tribute to the work attorney Gloria Allred has put in during her decades in the public eye as a vocal supporter of women's, gay, and trans rights, giving specific attention to her defense of women who accused Bill Cosby of sexual assault. Of course, it's a fitting doc for the era of #MeToo and #TimesUp, but also a humanizing look at one of the most publicized lawyers in American media.
Senna (2010)
Ayrton Senna is regarded as one of the best Formula One racecar drivers of all time, even though his career was cut short when he tragically died on live TV at just 34 years old in 1994. In this biographic look at the Brazilian athlete, documentarian Asif Kapadia provides as intimate portrait of the figure, who was beloved by racing fans and his home of Brazil. By excluding talking heads and using only archival footage, Kapadia reveals just how tender and personable the three-time F1 championship title winner was. Instead of providing a sports history lesson, you'll never feel closer to such a famous athlete, or so moved. 
Netflix
Shirkers (2018)
Although Sandi Tan grew up to have a fulfilling career as a novelist and filmmaker, she never quite forgot about one project from her youth: Shirkers, a homemade movie she and her best friends made in Singapore as teenagers. The footage quite literally disappeared, along with one of their collaborators, Georges Cardona — and that was the last they saw of both him and the film. This documentary, named after the original film, follows Tan's quest to discover what exactly happened to their beloved movie and the strange man who altered their lives. Written, directed, and co-edited by Tan herself, Shirkers takes you directly on the filmmaker's mysterious journey, telling a lively, revealing, and heartwarming narrative about a woman on a mission and her lifelong dreams. 
Sour Grapes (2016)
The stuffy world of rare wine auctions was turned on its head when it came out that Rudy Kurniawan, a 20-something collector, had been mixing less expensive wines to recreate the flavor profiles of coveted wines from specific, high-valued years and regions, swindling buyers out of millions of dollars. His sophisticated grift led him to become the first-ever person to be convicted for wine fraud. In a familiar but gripping true-crime reconstruction, Sour Grapes leads viewers through the story of how Kurniawan pulled off such a scam and the disgrace that befell the wine world in the fallout of his trial.
The Staircase (2004; 2018)
Before French filmmaker Jean-Xavier de Lestrade's The Staircase was picked up by Netflix in 2018, the mid-2000s series was one of the first auteur true crime series that its many successors have since modeled their stylistic choices and formats after. The series follows the lengthy trial against Michael Peterson, the author accused of murdering his wife in 2001 after Kathleen Peterson was found dead at the bottom of the staircase in their home. Peterson has maintained his innocence, even with one crazy revelation after the next and the emergence of interesting theories that strongly suggest that an owl might have done it. While the case approaches a two-decade long stretch, the show illustrates that whether Peterson is innocent or not is besides the fact: If the system doesn't even work for a wealthy and well-known white man, then who does it serve? The mess of the criminal justice system is nearly as haunting as the murder's mystery itself.
Netflix
Strong Island (2017)
First-time director, and first-ever openly trans Oscar-nominated director, Yance Ford takes a first-person approach to documenting the case of his brother's murder in this emotionally gut-wrenching film memoir. It's a true-crime doc, but it's also an autobiographical family portrait — Ford's main interview subjects are himself and his mother. It's one of the more intimate profiles of a senselessly terminated black life, arriving at a time when many similar stories have entered the current social discourse. We obviously don't get to meet William Ford, but we get to know the man before he was killed over a dispute about auto repairs. The film feels handmade in a tactile sense, as archival photographs are shared manually on screen, and Ford centers himself so close up that you can almost touch his tears. 
Team Foxcatcher (2016)
In the '80s, millionaire John du Pont was determined to help the USA Olympic Wrestling Team come home with the gold. He pumped funds into the team and even convinced world-class wrestlers Mark and Dave Schultz to join what he called "Team Foxcatcher" and live on his expansive property, which featured its own state-of-the-art training facility. In the Netflix original doc Team Foxcatcher, director Jon Greenhalgh chronicles this eccentric story, primarily through the life of Dave Schultz, and how his association with du Pont eventually cost him his life. This unsettling film features rare, original home footage that adds a chilling depth to the story told in the 2014 film Foxcatcher, starring Steve Carrell, Channing Tatum, and Mark Ruffalo as Dave Schultz.
They'll Love Me When I'm Dead (2018)
The iconic director Orson Welles spent the last 15 years of his life desperately trying to reclaim his stake in Hollywood by making the film The Other Side of the Wind, but because of lack of resources and optimism, it was never completed before his death in 1985. In They'll Love Me When I'm Dead, director Morgan Neville (20 Feet from Stardom) examines the years-long effort to finish the project, feeling like a companion piece to the original drama, as both examine an aging director attempting to create their comeback feature. It may be a dense doc about a painful, winded effort from Welles, but it's no less an inspiring look at one of Hollywood's greats and his mysterious last piece.
Netflix
Tig (2015)
Tig Notaro had one heck of a year. After suffering a serious bacterial infection, losing her mother, and then being diagnosed with breast cancer in quick succession, the comedian took to the stage at LA's Largo and performed a now-legendary stand-up set that begun: "Hello, I have cancer." This Netflix documentary chronicles Tig's life leading up to her career-changing set, and its aftermath: grappling with her overnight fame and trying to forge a way forward with marriage and motherhood. A frank, sweet snapshot of one woman's life and art and where they intersect, Tig is a testament to grace and good humor in the ugliest of circumstances.
Tiger King (2020)
Before Tiger King came along, a few docuseries were vying for the title of Netflix's craziest true-crime shows. Since Tiger King came out, it's no longer a contest. This series, a close look into the community of exotic animal keepers hiding in plain sight, has more crazy moments, twists, and real shockers in a single episode that it's legitimately difficult to keep track of every jaw-dropping revelation. Directors Eric Goode and Rebecca Chaiklin know how to hook an audience: Every episode starts with an epiphany and ends on a cliffhanger as they get deeper into the world of big cats, the drama unfolding between someone like Joe Exotic, who at one point owned the largest private zoo in the United States, and his mortal enemy Carole Baskin, who runs Big Cat Rescue in Florida. Beyond being absolutely insane to watch, Tiger King pulls off the delicate task of telling this impossibly crazy story with both empathy and a critical eye. No one comes out of it unscathed. 
Undefeated (2011)
If you like feel-good sports movies with underdogs going the distance to complete a triumphant season, this documentary can entertain and inspire with the best dramatic films out there. The coach of the Manassas Tigers, a high school football team from the poor side of Memphis, gives the crowd-pleasing Oscar winner a real emotional and motivational spark. Undefeated is conventional, with enough of the usual sports movie obstacles that it almost feels scripted, plus it looks too good to be true, but it is, and it's a wonderful work of nonfiction.

Unrest (2017)
This brave, intimate and emotionally affecting documentary is an autobiographical account of Brea's investigation into her own mysterious disease, myalgic encephalomyelitis (or chronic fatigue syndrome), that is very hard to understand or diagnose. Started as a video diary, the film evolved into a something that should have seemed impossible. Mostly confined to her bed, she also reaches out to others with ME around the world, interviewing many of them via Skype and Facebook. She experiments with various remedies, experiences drama at home because of the difficult circumstances of her marriage. In addition to sharing her story up-close and personal, the film contains other sad but inspiring stories and global campaigns for awareness and official medical recognition.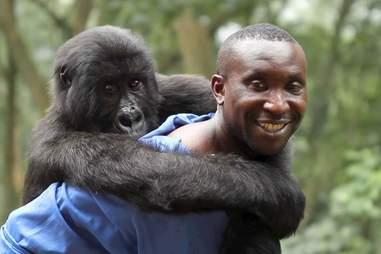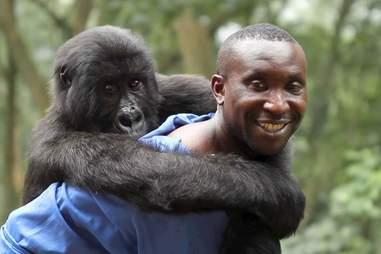 Netflix
Virunga (2014)
How do you stop a billion-dollar business from laying waste to an oil-rich national park? Make a movie. Part nature doc, part eco-thriller, Virunga catapults viewers into a struggle to protect Congolese mountain gorillas from poachers who may or may not be tied to SOCO International, a British conglomerate eying the lush lands. With a style akin to Hollywood action movies, Virunga sets out to investigate and muckrake, firing off accusations between actual firefights and appreciating the beauty of Virunga National Park, a place no viewer could imagine losing.
What Happened, Miss Simone? (2015)
How do you convey the richness of a career as complex, contradiction-filled, and exuberant as Nina Simone's? The answer turns out to be relatively simple: by focusing on her performances. Through elegant editing of archival footage and selective talking-head interviews, director Liz Garbus depicts the North Carolina-born singer, composer, and activist with little fanfare.
Wild Wild Country (2018)
One of Netflix's newest documentary series, part of the platform's collaboration with producers the Duplass brothers, is chock full of jaw-dropping twists and turns that, while a bit meandering at times, are nevertheless worth the six-hour binge. With the help of archival news segments and home-movie-style footage, the doc takes a trip back in time to chronicle the forgotten about story of a 1980s cult commanded by Indian guru Bhagwan Shree Rajneesh, whose purchase of an extensive plot of land in Oregon leads to conflicts with locals and eventual scandal on a national level. Most of what unfolds in Wild Wild Country isn't unlike other cult documentaries that have come before it, but that doesn't make watching it any less of a wild ride.
The White Helmets (2016)
Winner of the Oscar for Best Documentary Short, this powerful film profiles the titular team of first responders operating in war-torn Aleppo and other parts of Syria, endangering their own lives to save as many others as they can. And the filmmakers follow along, also under great duress. Even more tense, though, are scenes in a White Helmets training camp in Turkey, where recruits are away from their families, worrying for their loved ones' safety in their absence.
13th (2016)
Selma director Ava DuVernay snuck away from the Hollywood spotlight to direct this sweeping documentary on the state of race in America. DuVernay's focus is the country's growing incarceration rates and an imbalance in the way black men and women are sentenced based on their crimes. Throughout the exploration, 13th dives into post-Emancipation migration, systemic racism that built in the early 20th century, and moments of modern political history that continue to spin a broken gear in our well-oiled national machine. It's not the greatest documentary ever made, but you'll be blown away by what DuVernay uncovers in her interview-heavy research.
Need help finding something to watch? Sign up here for our weekly Streamail newsletter to get streaming recommendations delivered straight to your inbox.
---
as per our monitoring this Story originally appeared
*here*

The Absolute Best Documentaries on Netflix

Have A Say ?Pay A Visit : Trending Story
---
Hi Viewer of this Story,
You may add your Story ;
Add your

News,


Views,
Consciences,


Etc.


as Story
---
---